Elephant Water Feature Outdoor
Item No: FOUN-021
Size: 74 cm in height
Material: Sandstone
Color: Same as Picture
Usage: suitable for home decoration, or placed in shop mall, office, garden, or gift for friends and so on.
Elephant Water Feature Outdoor
This is the elephant water feature outdoor. This elephant scenic fish pond is decorated with marble, presenting an elegant and luxurious style. The peony flowers and auspicious cloud patterns on the periphery of the fish pond highlight a strong traditional Chinese cultural atmosphere, adding a strong artistic flavor to the entire landscape.
On the rectangular tank above the fish pond, two elephants present vivid images, adding vitality and vitality to the entire landscape. One of the elephants lay there with its nose up and its teeth slightly exposed, making it particularly cute. It holds a crystal ball in its mouth, flashing with a dazzling light that makes people want to reach out and touch it.
The other elephant assumes a standing posture, with its nose pointing at the crystal ball and spraying water. It opens its big mouth and the water spouts out of its mouth towards the fish pond, bringing a smooth and dynamic feel to the entire landscape.
Size: 74*78*52cm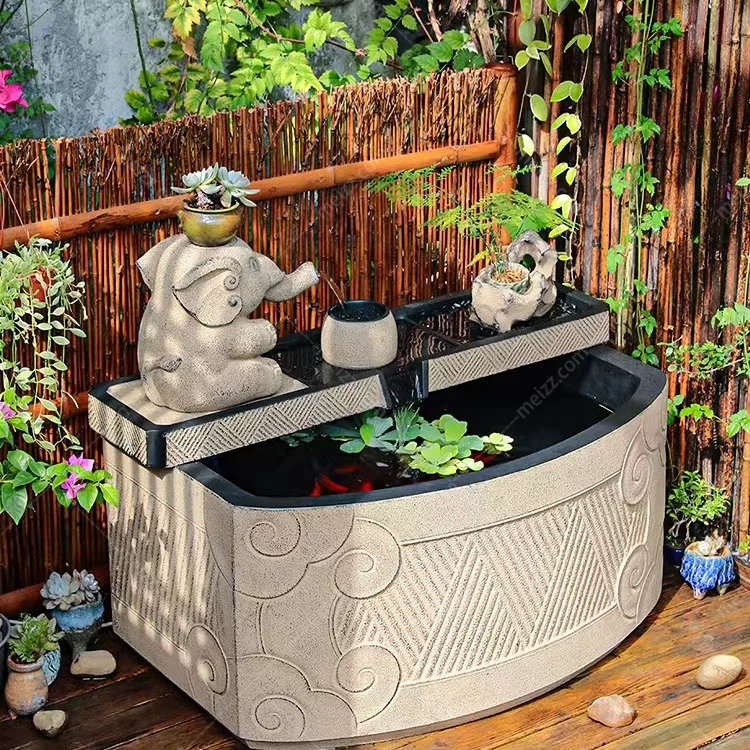 For you kind to know:
1. The freight cost depend on the package size and weight of the statue. Please contact us confirm the freight cost before place an order.
2. We are statue factory, customization is welcome.